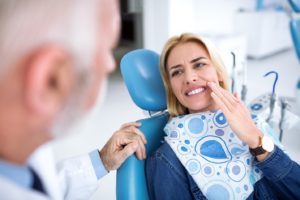 The world can sometimes come to a screeching halt when you experience a dental emergency, and amidst the panic and alarm, you might have trouble thinking clearly! However, if there's ever some sort of urgent problem with your smile, you often need to seek treatment from an emergency dentist right away. That said, being prepared and knowing where to go can save you a lot of time and stress. Here are some tips for how to find an emergency dentist when you need one quickly so you can get your pearly whites the care they need.
What Constitutes a Dental Emergency?
To put it simply, dental emergencies typically involve painful, sudden, or traumatic situations that necessitate immediate treatment. Some common examples include chipped or fractured teeth, damaged or lost dental restorations, displaced teeth, severe toothaches, hypersensitivity, and more.
It's important to note that dental emergencies are circumstantial; sometimes these emergencies can result in only minor pain and discomfort and might not need to be treated immediately. Other times, they can lead to potentially life-threatening situations if left unaddressed. Remember, it's always in your best interest to seek urgent and appropriate treatment for a dental emergency!
Steps for Quickly Finding an Emergency Dentist
Upon suffering any type of dental emergency, contacting your emergency dentist is step one—but if you don't have an emergency dentist, you can follow these steps to get your smile the urgent care it needs in a quick manner:
Contact your primary dentist and inform them of the situation. If it's during business hours and your dentist offers emergency dentistry, they will let you know when to come in, depending on the nature of your emergency. If it's after-hours and you get their voicemail machine, they might provide additional instructions or direct you elsewhere.
If your dentist doesn't offer emergency dentistry, you're out of town, or if you don't have a primary dentist, you can check online for a local practitioner. Most dentists have their services listed—and dentists that do offer emergency dentistry typically leave time built into their schedules to handle emergencies.
For severe emergencies or in instances when you're unable to contact an emergency dentist, your best option might be to visit an emergency room. But you should keep in mind that most emergency rooms lack the equipment or staff to properly treat dental emergencies. However, they might be able to provide you with symptom relief, at the very least.
Tips for Easing Your Discomfort in the Meantime
Depending on the nature of your emergency, there are often things you can do yourself to manage your discomfort while you're waiting to see your emergency dentist. Consider the following:
For cracked or broken teeth: Use warm water to rinse out your mouth and apply a cold compress for swelling.
For displaced teeth: Don't touch the root; only the crown of the tooth. If you can't place the tooth back in its socket, store it in a container of milk and apply a cold compress for bleeding.
For tooth or jaw pain: Over-the-counter pain relievers like ibuprofen can be used to manage minor discomfort.
For bleeding or aching gums: Often an indicator of periodontal disease (advanced gum disease), treatment will vary based on the severity.
For soft tissue injuries: Clean the area gently with water and apply a cold compress for bleeding. See a medical professional for severe injuries that require stitches.
About the Author
Dr. Robert De Rosso received his dental doctorate from the Tufts University School of Dental Medicine and has proudly served patients and families in the Washington, NJ area for several years. His practice is pleased to offer many available services including emergency dentistry. If you or a loved one has suffered a dental emergency, don't hesitate to call to schedule an appointment: (908) 689-8887.