Dental Implants – Washington, NJ
Providing an Advanced Solution for Missing Teeth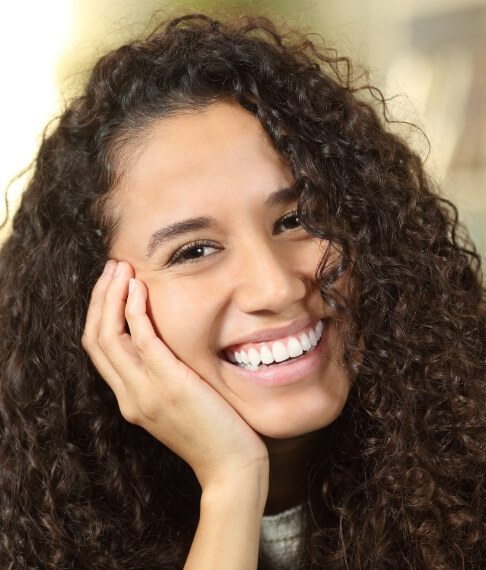 When you ask a dentist what their top recommendation for replacing missing teeth is, odds are that they'll say dental implants. By mimicking your tooth roots, dental implants offer an unmatched level of security and helps keep your jawbone strong. It is also the preferred tooth replacement option among many patients who want a highly comfortable, natural-looking, long-lasting new smile. You can start the process to replace missing teeth with dental implants in Washington, NJ by scheduling a consultation with Dr. De Rosso.
Why Choose Today's Family Dental for Dental Implants?
In-House Implant Placement
Lifelike Crowns, Bridges, and Dentures
Friendly Team and Caring Dentist
What are Dental Implants?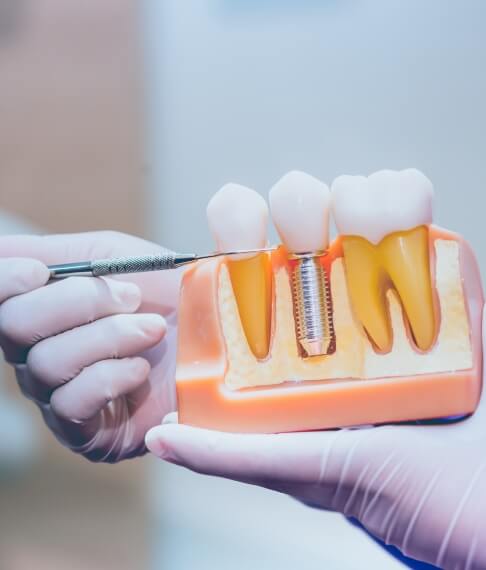 A dental implant consists of three main parts: the post, the abutment, and the restoration. The post is placed directly into the jaw and fuses with the bone to effectively become part of your body. It's typically made out of titanium, a highly biocompatible material. The abutment is a connector piece made from the same material as the post; its purpose is to support the restoration, which may be a crown, bridge, or denture depending on how many teeth are being replaced.
The 4 Step Dental Implant Process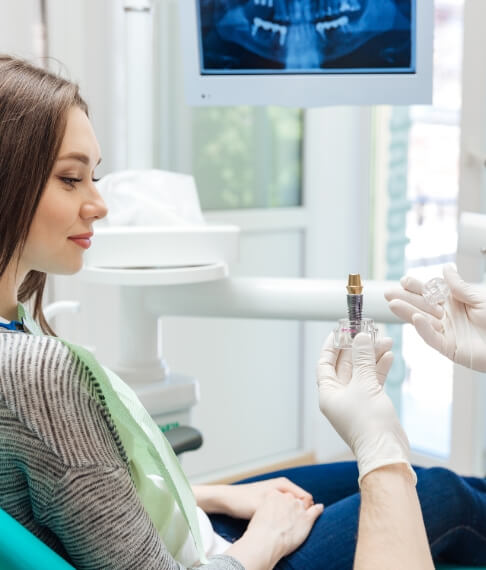 Consultation: We'll meet with you and examine your mouth to determine how many teeth need to be replaced. We'll also evaluate the jawbone to see if bone grafts or other preliminary procedures need to be performed before the surgery.
Dental Implant Surgery: This is a minor surgical procedure that can be handled in-house.
Osseointegration and Abutment: As the mouth recovers following implant surgery, the bone will fuse with the implant post. After osseointegration is complete, the abutment will be positioned onto the implant post.
Delivery of the Final Restoration: After the other steps are complete and you've had time to heal, you'll be ready to receive a restoration that has been customized to blend in seamlessly with your smile.
The Importance of Bone & Bone Grafting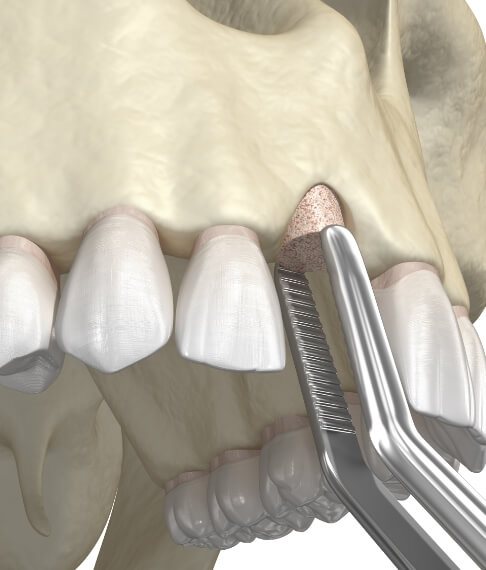 The level of bone in your jaw is a key factor in determining whether you can get implants or not. Dental implants can only get the stability they need when there's a sufficient amount of bone to hold them in place. That said, even if you don't currently have the bone density required, you could still be a good candidate for implants after bone grafting has been performed. Part of the initial consultation will be spent determining whether bone grafting material needs to be added to the jawbone before implant surgery.
Benefits of Dental Implants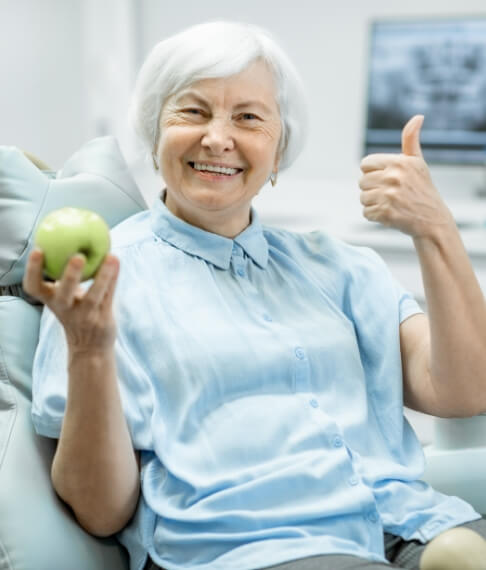 Can be used to replace any number of missing teeth, from one to all
Are very easy to take care of via normal oral hygiene habits (i.e., brushing and flossing)
Look and feel like real teeth, which improves confidence
Are firmly grounded in jawbone, increasing strength and stability
Can maintain a healthy jaw by stopping bone resorption
Have a long lifespan, letting them stay in the mouth for decades without needing to be replaced
Who Dental Implants Can Help?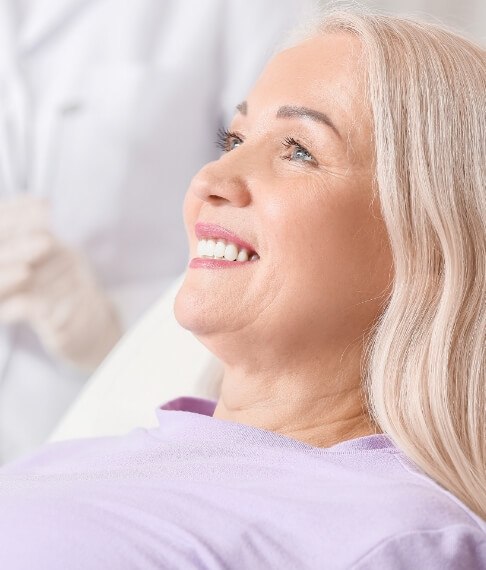 Good candidates for dental implants have a smile that's free of infection along with a sufficiently healthy jawbone. We can determine your eligibility (and any steps we'll need to take to make you a viable candidate for implant surgery) during the first consultation. After that, we just need to determine how many teeth need to be replaced, as the number of implants needed and the kind of restoration required will vary based on the number of teeth lost.
Missing Single Tooth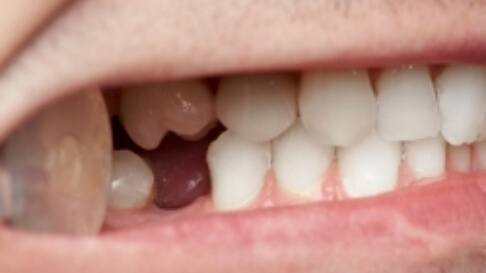 When you have lost just one tooth to an accident or some kind of oral health issue, a single implant will be inserted into the gap, and a crown will eventually be attached to it. The crown will be made from either porcelain or zirconia to blend in with the other teeth.
Missing Multiple Teeth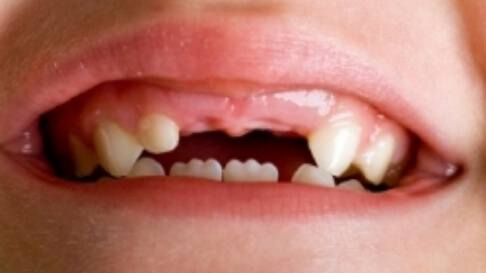 We don't necessarily have to replace each missing tooth with its own implant. For example, if three or more teeth are missing in a row, a pair of implants can support a dental bridge to fill the gap. It's also possible to attach partial dentures to implants if the situation calls for it.
Missing All Teeth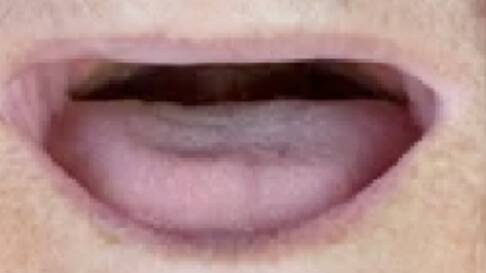 An implant denture can be used to replace an entire arch of teeth. We'll aim to use the smallest number of implants possible, which is usually between 4 and 6. Some implant dentures are permanently fixed to the posts while others can be snapped on and off according to the patient's needs.
Understanding the Cost of Dental Implants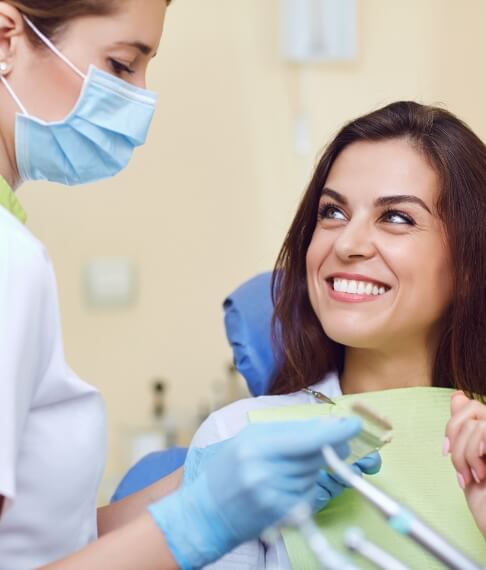 Cost is probably going to be one of your biggest concerns when you first start looking into getting dental implants. The final price will be different for every patient based on a few determining factors (such as the number of implants used). Dental implants may cost more than traditional bridges and dentures, but they generally pay for themselves over time thanks to their longevity and the many benefits they offer compared to more traditional replacement options.